We went to Montana: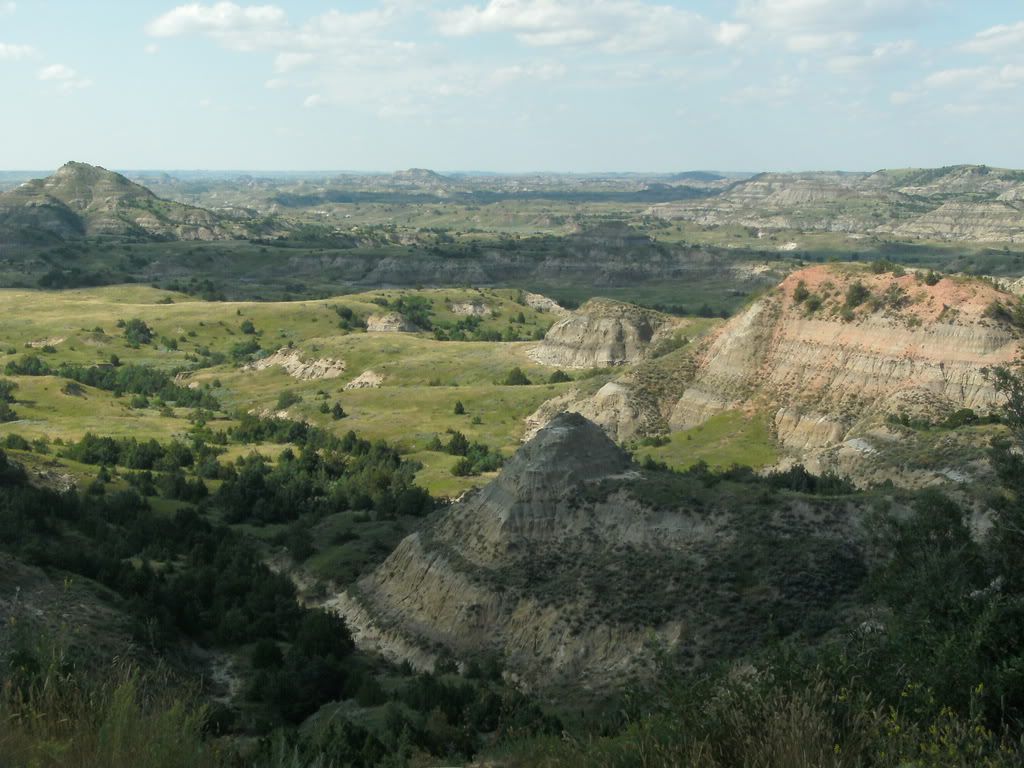 North Dakota, right next to Montana.
You have to drive through this to get there from here.
Some of it looked like this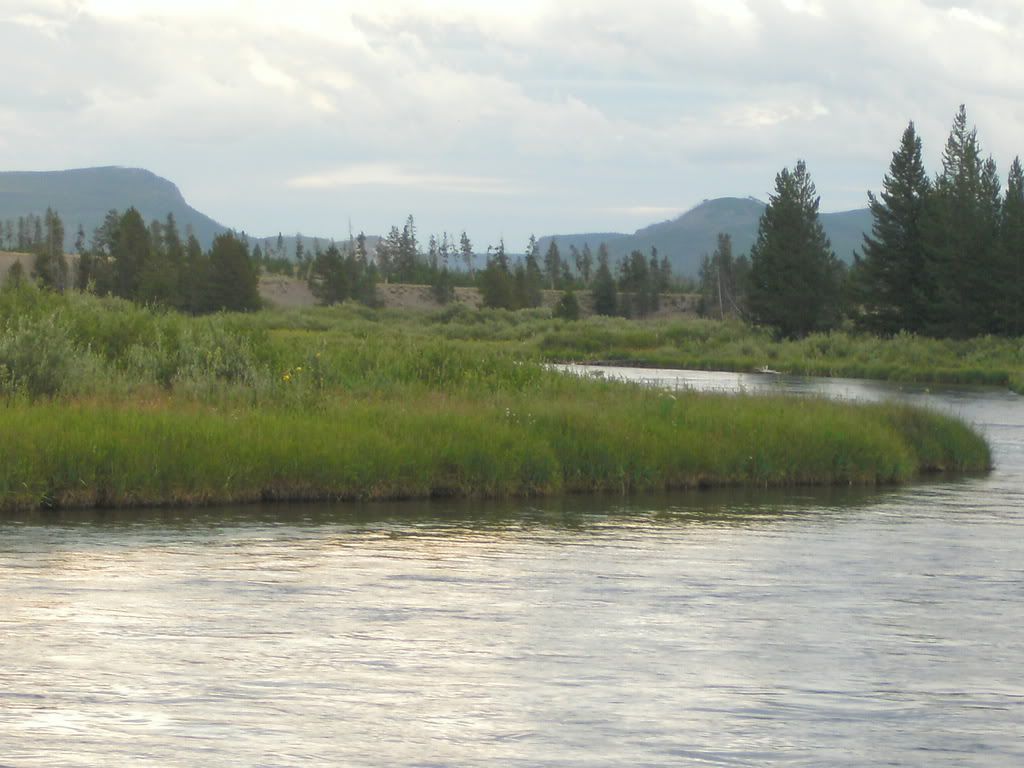 First day we got going late, but Ron and Val had stew and beds ready for us when we rolled into their place in Billings. Thanks so much.
After a nice visit with the Frees we sped of to West Yellowstone via Bozeman. Last time we went this way (2009) the park got closed before we arrived. Pres. Obama passed us with his motorcade on the road between Bozeman and W. Yellowstone.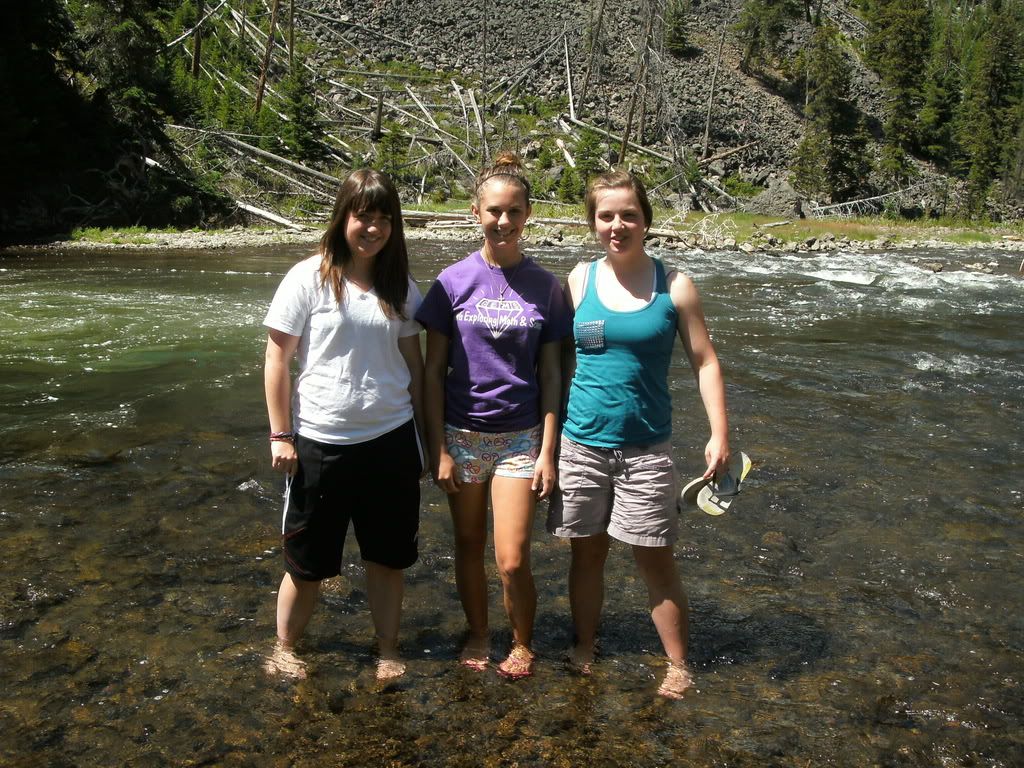 Ruth, Louisa, and Iraina wading.
The park wasn't closed this time. We camped at Baker's Hole. Bob and Aimee camped at the KOA. Joel and Kathy camped with us at Baker's Hole the second night.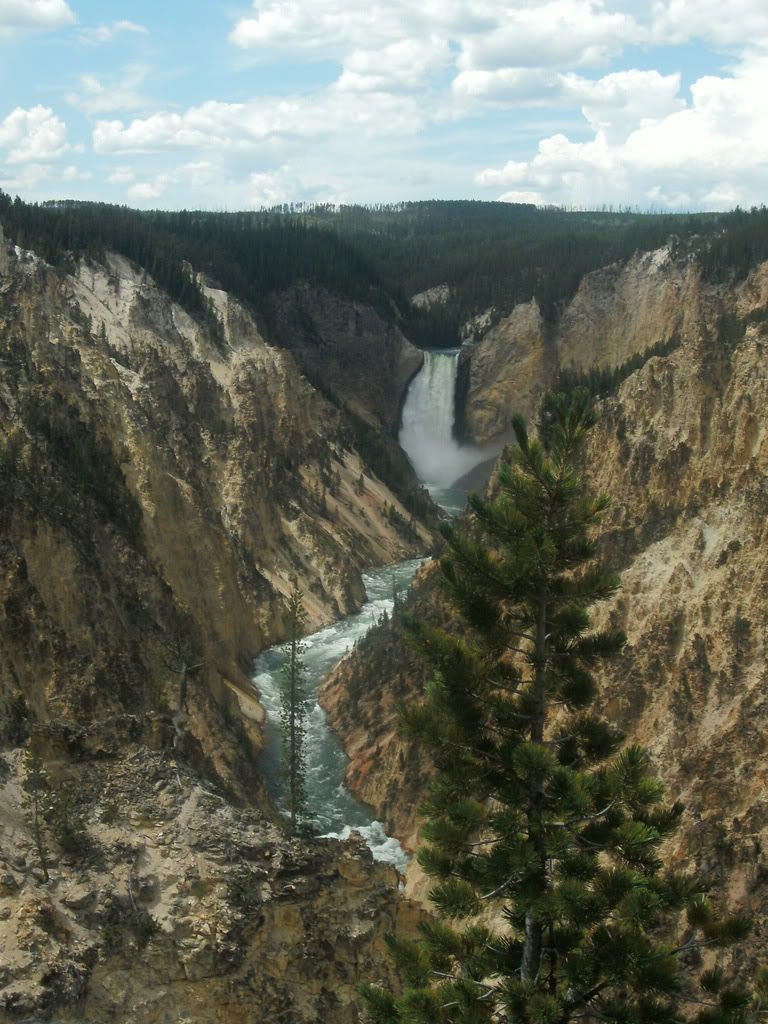 Louisa took this great photo of the Lower Falls Yellowstone River.
Mary planned this trip as a kind of family get-together. We were really glad that we could spend a couple days with Kathy and Joel and kids, and 5 days with Bob and Aimee and kids.
Grand Prismatic Spring, Midway Geyser Basin, photo by Louisa.
The days were hikes and exploring. The evenings were conversation, smoars and campfires.
But when we pulled into camp on August 2nd the campground bulletin board said a Grizzly bear had been sighted in camp that morning.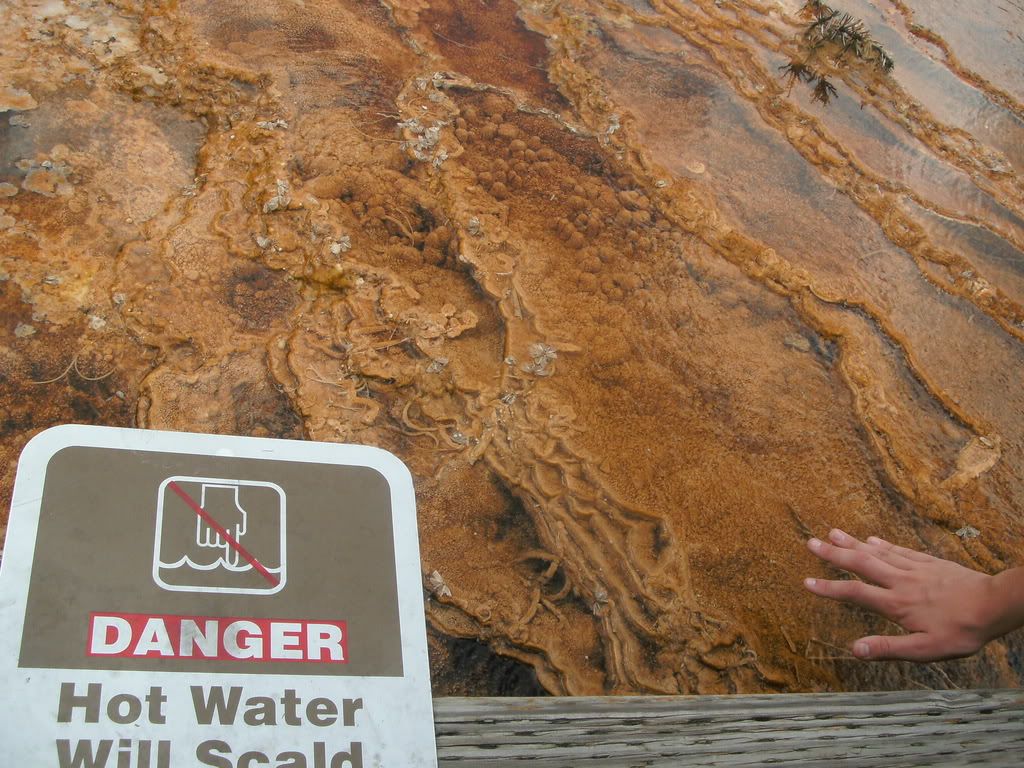 I'm not sure if this is Callum's hand or Louisa's,
But you'll see a pattern with signs and the kids.
Our next door camping neighbor made sure we, and everyone else in camp knew about it.
"Hey, there was a GRIZ through here this morning. You know, you gotta take care of your camp site."
Me: "yep, I live in black bear country and have been camping in Grizzly country since 1974. We'll take care. Thanks."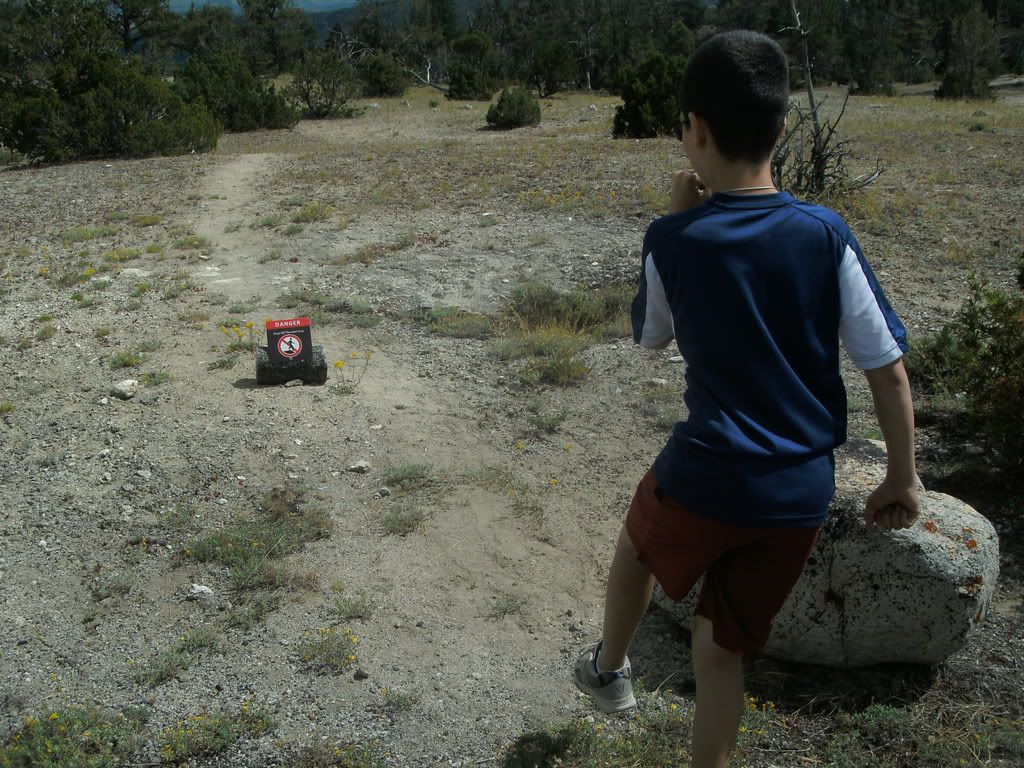 Callum needed to get closer to read the sign!
He: "You've got three tents, aren't you going to have an adult in each tent? THE GRIZ might get your kids!"
Me: "No, I'm not worried. We're careful. We will put our food away properly. Clean up properly."
He: "Hey man, it's THE GRIZ! Don't you have any
PROTECTION
?"
Me (starting to be both entertained by his paranoia and being annoyed at his interference with our setting up camp): "Yeah, 32 rounds. Besides, we spread out so not all of us will get eaten at the same time." (Yeah, I'm mean sometimes.)
He looked at me in shock, then smiled.
Elsie's photo at Canary Spring at Mammoth Springs.
He never cooked or ate in his campsite. He borrowed our campfire and brought food over to us once. Ate it at our campsite.
He: "Yeah, well THE GRIZ will probably come from the river on the other side of the campground and get those people first. Besides, I got my bear spray and my 9mm."
Me, thinking: "Hmmm, Bear spray is a much weaker formulation of self-defense pepper spray with a 30 foot range. Assuming there is no wind, and the bear doesn't like habaneros, and assuming that a grizzly capable of running 58 feet per second (40mph) will give you the time to take the spray from a safety holster, unlock the spray can top, take aim, spray, and move out of the area...... .. .. .. . ."
I've read
The Journal of Wildlife Management
article on the topic. I'm not really convinced. They did not include any comparative data about firearm usage. A nice cautionary response is
found here
.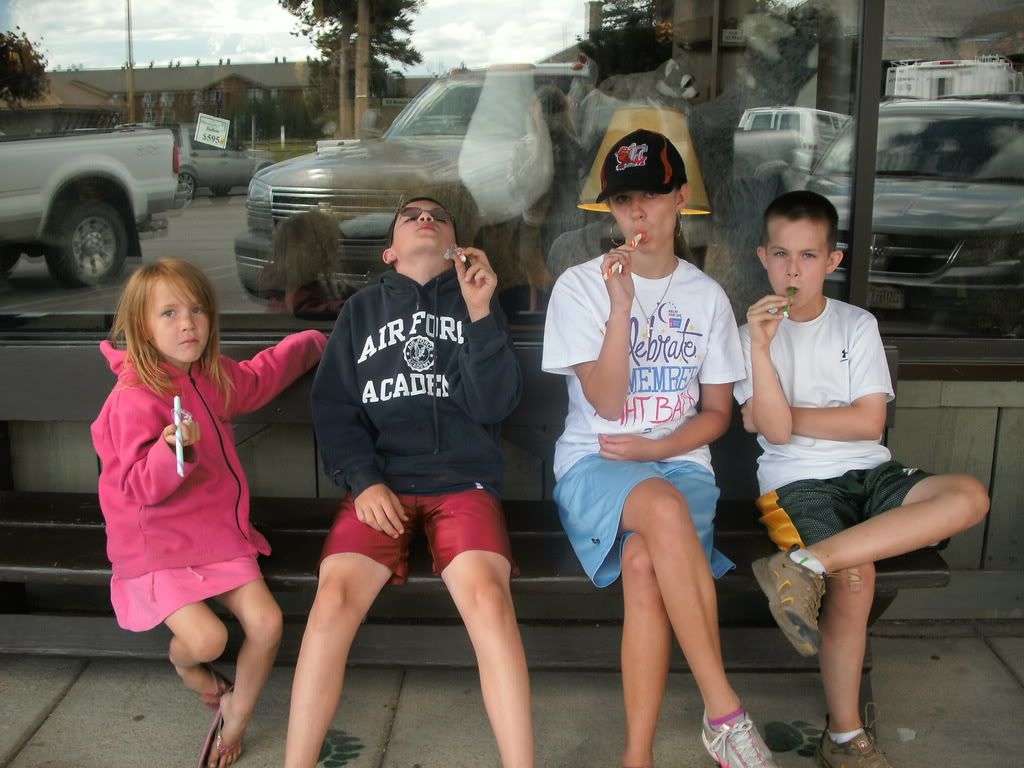 Stella, Callum, Louisa, and Ian relaxing in W. Yellowstone
after and arduous walk through a tourist shop.
I like the funny placement of the lamp shade behind Louisa
It's like she has bolts coming out of her ears.
So we did a lot of hiking through Yellowstone National Park: All of us, Lots of walking. Some of us carrying bear spray and large calibre handguns. Just in case THE GRIZ showed up to ruin our day.
Callum checking out the veracity of a sign on the Bighorn Trail.
He survived.
Callum seemed the most eager to explore the more risky horizons, though I think he and Louisa made a pretty good team at these prank photos.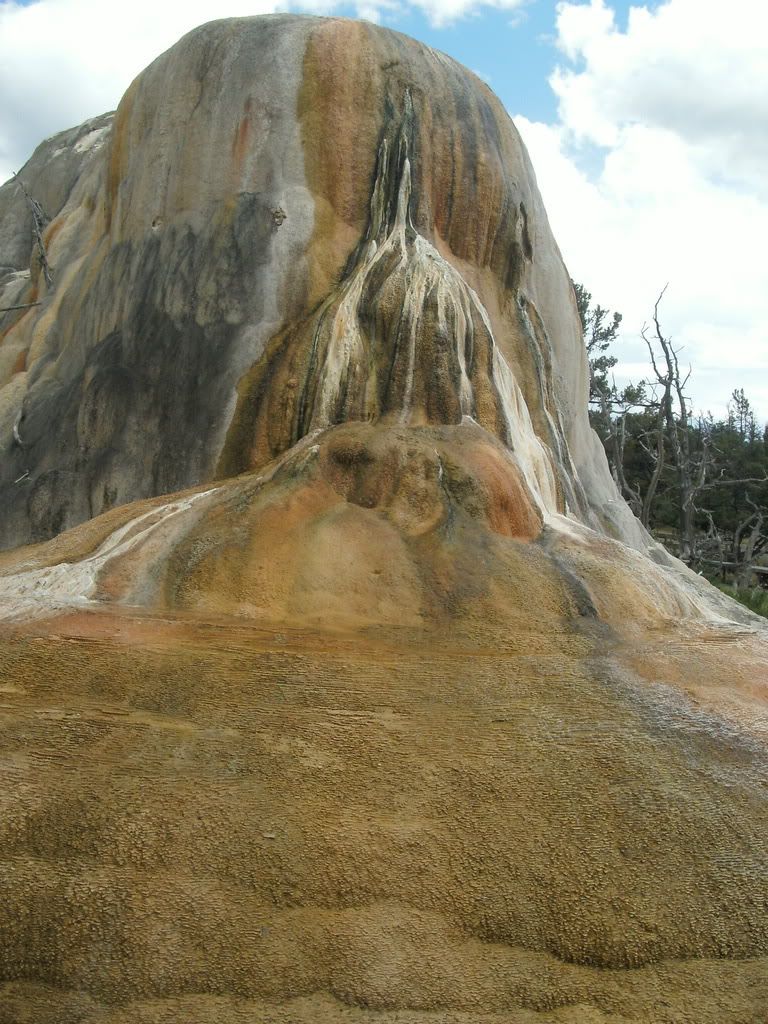 Louisa's photo of Orenge Spring Mound at Mammoth Springs.
We hiked several trails. One time, Bob and Mary took the littlest ones via truck while Aimee and I took the other kids on a hike around the road in the upper part of Mammoth Springs.
We walked the Norris Geyser Basin, but some of us had to defer to the necessities that small children have while on long hikes in public ("I have to go to the bathroom." And Donna dislikes public restrooms in strange places--who'd not?)
But, alas, no photos of the Norris Geyser Basin. Perhaps Aimee can fill in here?
When Joel, Kathy, and daughters were there we did the Midway Geyser Basin board walk. There were a few hats here and there near the geysers. It might have been windswept hats, but the ground was unstable and could swallow a person and scald him to death. So, we preferred to use the hats as cautionary examples.
A couple from Hawaii took our family photo after our picnic.
There were no shortages of wild strawberries and wild huckleberries on our hikes. And through a long hike on the Bighorn Trail we enjoyed the strawberries.
More boring vacation drivel in the next post or two.... Stay tuned....