This past weekend our family went camping in
Ramsey Park, Redwood Falls, MN
. Mary and I talked about a variety of different ways we could enjoy the weekend as a family get-away.
[While I'm writing this I have Rush "Closer to the Heart" running through my head, thanks to Dave S. and his question on his "
The Gospel according to Carl Perkins"
blog. I'll get back to you, Dave.]
My cousin, Amber, had asked me to perform the ceremony of Marriage for her and her fiancé, Adam. I had gone down to Belview previously to meet with Adam and Amber for pre-marriage counselling. Adam is a good man.
So (and, I'm sorry, I forgot my camera, so any pictures will come from others, later) we left late last Thursday morning. Matthew and Holly V. were willing to tend to our chickens and cats while we were gone.
Thursday morning we packed up, I moved the chickens, set up the electric fence, fed and watered them.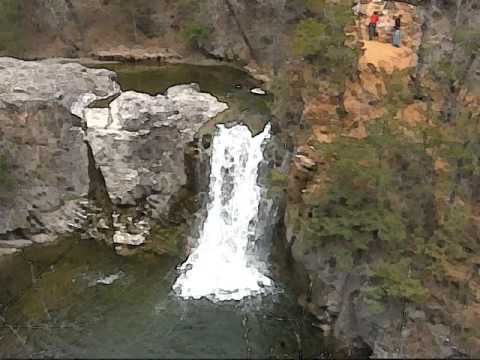 Then we were off to Ramsey Park.
Redwood Falls
is full of exciting
history
, including the
Sioux Uprising
of 1862
. (Which is, in my opinion, one of the greatest early examples of the failure of Government to live up to its
Statist
promises.) But we were there just to have family fun while I attended to the wedding of my cousin and her betrothed.
Amazingly, the kids didn't have to go pee every 30 miles.
But on the way down to Redwood Falls we went through Wadena. As we came in on Highway 71 there didn't appear to be a lot of damage, though the old Pamida building had Sheriff cars and deputies around it. But when we turned onto 29 to go to Alexandria we started to see lots of horrible damage. I'm sure some of you have seen the images on the news. We saw steel quonsets from several blocks away sitting twisted upon houses across from the school; trees torn up everywhere, and houses torn apart. One house had it's side torn off, and we could see the spices and dishes stacked neatly on the shelf in the kitchen.
The devastation was visible further south as we went toward Deer Creek. I was told by family that one of my cousins had extensive damage on his farm south and east of Deer Creek. We saw a clean-up crew next to 29 in that area.
I'm glad that there are so many neighbors willing to help clean up after this tragedy. Please keep them all in your prayers. The mayor of Wadena is a nephew of one of my members at Nazareth.
We got to Ramsey about 5pm.
Some background info. Louisa had been in contact with her friend from Hawaii. It happens that her friend's family spends a couple of months of the year in New Ulm, MN and that they could meet us at the park. So we met Christina, Elise, Dot, and their mom, Ann, at Ramsey. They camped with us that Thursday evening.
It turns out that Ann was one of my students when I was a professor at Bethany Lutheran College. Her husband, Corey, was not able to be there, he is in the Navy and had to go back to Hawaii to attend duties. I'm sorry that we weren't able to meet him also. And I want to thank him for his service to me, my family, and our country. I know two other "
Nukes
" to whom we owe our lives and freedom, and whom I respect deeply.
Thursday eve' we set up camp and had a good time catching-up and meeting each other. [and, forgive me boys, I thought if my sons had any sense, they'd surely keep these wonderful Confessional-Lutheran young ladies in mind in the future!--Is that too much to say as a father?]
So, after supper and a SMOARs Friday came. We wandered about the park until it was time to say good-bye. But Louisa, Elsie, Clara, Christina, Elise, and Dot had other things in mind. Louisa and Elsie would go with Ann, Christina, and Elise. Dot would stay with us.
Friday afternoon, we showered and such. Thunder!
Well, it was a bit early, so we went for a drive before the wedding rehearsal. The rain was sporadic, the clouds frightening. I drove past the farm where the wedding would take place. To kill time I took us to Goldmine Bridge north of
Delhi
, MN.
The clouds did look ominous. After turning around north of the bridge over the MN river and going up the south slope I saw a vortex come up off a tree just to our left.
"Did you see that!!!?" I said.
Matt, looking in a different direction said, "I just saw a funnel cloud." (Or something like that)
Mary said something like, "Shut up, you'll scare the little ones."
So I drove to the farm where the wedding rehearsal would take place. And we waited over an hour under a Tornado Warning for the storm to abate.
The rehearsal went well, Adam's family is wonderful, they also fed us well.
We went back to camp and found all our tents full of water.
So we shopped around for a motel in Redwood Falls that would house two adults and nine children for a "reasonable" price--or whatever.
It was all a great adventure for the kids. And they got to swim in the pool on Sat. Morning.
Mary took Matt and Jeremy to help get the bedding to the laundry so we could camp after the wedding.
I stayed with the rest of the kids.
We got back to camp at about half-past-noon on Saturday.
Every ounce of effort was made to get the campsite ship-shape for the coming evening. Ann came and we traded kids back to their proper parents.
And I made a suprisingly good chicken dish on the campfire. I'll have to try to remember to post what I did. Wow, even the left overs are great.
Then, when the time came we dressed for the wedding and went off to the farm.
The wedding was nice. I preached on Ephesians 5; similar to, but a different sermon than I had for Tina and Thor's wedding at Solway two weeks before.
It was a nice reunion with family, and a good meeting of new family.
But the storms came.
There were tornadoes to the east of us. My aunt and uncle, Roger and Nyla, volunteered to help us break camp. Mom and Dad took our youngest children with them to their house. We were to go there after we broke camp.
At least the rain was warm.
The sirens were screaming in Redwood Falls, Campers were running to the WPA buildings for shelter from the storm. I was on top of the van, strapping on luggage carriers. The van was full of water, I was full of water, the kids were full of water, my aunt and uncle were full of water. And we drove through the Tornado Warning to my folks' house.
The rain started to let up when we got near Delhi [by the way, that's pronounced "Dell---High" not like in India "Dell-EEE"]
After unpacking, stripping, laundry, drying, etc. all went to bed in a warm cozy house.
Thank you, Mom and Dad. Thank you, Roger and Nyla.
Sunday morning came, Church at Rock Dell with Pastor Faugstad. We sent Louisa, and Elsie off with a friend at Rock Dell to camp: Thank you Jeanne. We sent Matt off to camp with Pr. Faugstad, Thank you.
Clara, Sophie, Stella, and Johnie stayed with Grandpa and Grandma. They'll come home this coming weekend. Mom and Dad want to be at the Oklee Centennial.
The Camp kids will come home with the youth group kids at camp.
We got home about 10pm Sunday.
Matt and Holly kept the chickens alive, and my, how they have grown. They even managed to move the chicken tractor to keep the chicks healthy.
Thank you, Matt and Holly.
Water, feed the chicks, read and go to bed. Donna and Inge slept most of the trip, so they were awake till late.
Jeremy had no problem sleeping.
Neither did we.
Hope you have a nice vacation.
Oh, remind me to put up my bratwurst recipe. It tasted great.